Dearest Jake,
I remember first seeing you on The Bachelorette. That smile and those dimples won me over instantly. The pilot thing really got me, too. What's sexier than a man with wings? Amongst a group of meat-head jackasses, I thought you were the most adorable contestant attempting to win Jillian's heart. You appeared honest and genuine and charming to the point of nauseousness. Even though Jillian failed to see this, you continued to protect her long after she eliminated you from the show. You flew back to warn her of Wes' true intentions - country music fame! That bastard didn't love Jillian like you did! He used her to further his career, that snake.
Seeing as though I liked you so much, I was happy to learn you had been chosen to fulfill the role as The Bachelor. Surely, you would pick a girl like Jillian - equally as adorable as you, lovable, good morals, a nice family. Sadly, I was mistaken. You chose the craziest, fakest bitch in the house. You chose the one woman that none of the other women got along with. She was the Wes of your season. Apparently you couldn't see past her FAKE blond hair and FAKE big boobs to realize what a pea brain she was. My heart broke to discover how shallow you were. You went from hero to zero in my book. I spent countless Monday nights screaming at my television, throwing handfuls of potato chips, pillows and my remote control at the screen in disapproval of your small-mindedness. Vienna? Really, Jake? (WTF kind of name is Vienna anyway?) You're a disgrace, Jake Pavelka!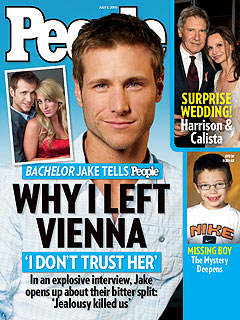 I apologize. Let me calm down. Obviously, I'm still enraged at your mistake. Ironically, these days it seems you are, too. Your breakup with that biyatch is everywhere. Example A: The cover of People magazine pictured here.
It appears she broke your heart. Suddenly you had an epiphany and realized Vienna is nothing more than a bimbo. In the People article you whine about her having no motivation and sleeping in every day until 10:30am. Uh, duh. I could have told you what to expect. Every woman in America watching your season of The Bachelor could have told you what to expect! How could you not see it, Jake?! She was so young and naive and mean and whiny and dumb. Because of this, I have no pity for you. You should have seen this coming. You have single handedly become the dumbest bachelor in Bachelor history. I pray that future Bachelor's learn a lesson from you and propose to the woman that would make their momma's proud.
Sincerely,
J from the B
P.S. YOU CAN'T DANCE.